Product reviews are one of the biggest driving forces of sales on Amazon. When a customer searches for an item on Amazon, their search results will usually yield hundreds if not thousands of products in the realm of what they are looking for. These results often include dozens of products that match the customer's search parameters perfectly.
So what factors help guide the customer to the item that they will eventually buy? In most cases, when deciding between new brands that they are unfamiliar with, the prices and product reviews will play a very large role in the decision. And while some thrifty shoppers will always lean towards the lowest price, many are willing to pay a bit extra for a product that they are more confident will work well. Product reviews provide that confidence.
The best legal method of acquiring legitimate product reviews is an email campaign that reaches out to customers that have purchased your product asking them to leave a review. Manually reaching out to every customer via email after every sale would be challenging and time-consuming at best and downright impossible at worst for higher-volume sellers.
Fortunately, there is another way; a seller tool like FeedbackWhiz can automate the entire process for you. When using automation, there are three important steps to consider when building your campaign. 
Read More:- Amazon PPC Product Targeting Strategy for Amazon Sellers in 2022
1. Scheduling the right time to send out your emails.
Most Amazon email marketing campaigns that are built with the goal of acquiring product reviews in mind begin with a reach-out email shortly after an item is purchased. This helps to establish a relationship with the customer before you ask them to leave a product review in future emails. It is important to note that per Amazon's Terms of Service, you can only ask a customer to leave feedback; you can't explicitly ask for the positive feedback.
With that note in mind, just asking for honest feedback is what the second (and potentially third) email will do. This email should be sent after your customer has been given enough time to try out the product and formulate an opinion on it. 
On a product like a protein shake that a customer will likely try pretty soon after they receive it, the call-to-action email could be scheduled to send about a week after the product was delivered. On a product like a 1000-piece puzzle, however, it might be best to wait about three weeks to give the customer enough time to solve the puzzle and decide how much they enjoyed it.
Read More:-  How Canadian Amazon Sellers can get paid in USD? AMZ One Step
2. Building email templates for each step in the process.
As mentioned above, the first email should be scheduled to go out soon after a purchase is made. This could be as early as one the order is processed, or once it has been shipped. Here's an example template for what an email sent out right after an item has shipped might look like:
Hello!
Thank you for your purchase of [[ITEM_TITLE]]! We are confident you are going to love it.
[[PRODUCT_IMAGE]]
Your purchase is on its way! You can follow its progress with the following link: [[LINK_SHIPMENT_TRACKING]]
We here at [[COMPANY_NAME]] put customer service above all else. If you have any questions about your order before or after you receive it, please let us know! [[LINK_CONTACT_SELLER]]
Thanks,
Seller Name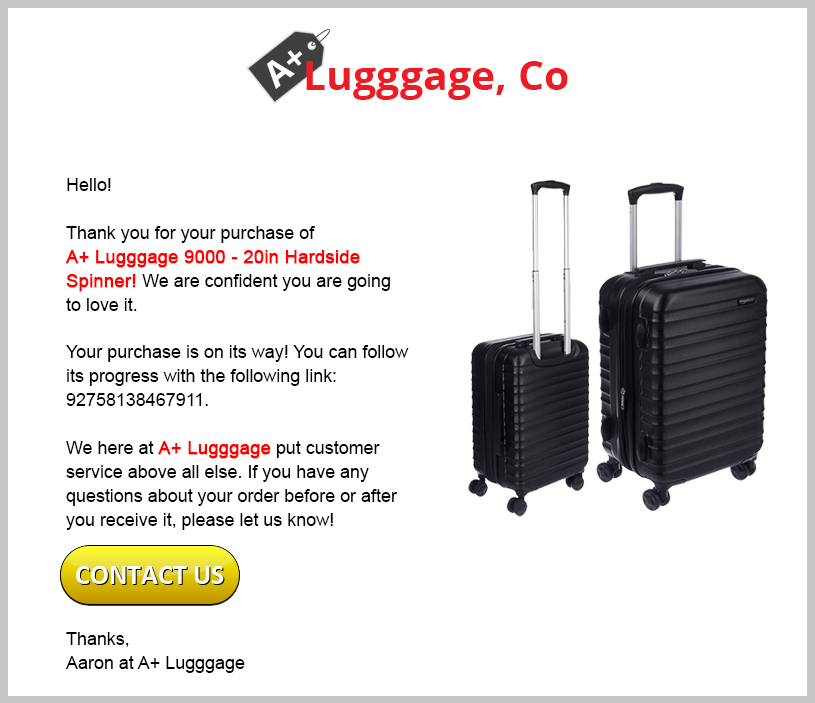 The variable tags listed with brackets are all auto-populating. So, once you set up a template for automated delivery, the pertinent information will be automatically populated based on the item purchased. 
Read More:- Tips for Selling Products on Amazon Successfully!
While the first email is just designed to touch base with the customer, the second one is your call to action. You will use this email to encourage the buyer to leave a product review on their purchase. Remember, you can't explicitly ask for positive feedback or offer any incentive for it. But if you have a quality product and you have made yourself available if they have any issues, you should receive positive product reviews more often than you receive negative ones.
Hello again!
I just wanted to check-in and see how things are going with your [[ITEM_TITLE]]! We hope that you have been enjoying it over the last two weeks.
We understand how busy this time of year can be, but if you are able to take a moment, we'd really appreciate a product review! Your feedback helps us ensure that we are providing our customers with high-quality products that meet their needs. It also helps fellow Amazon shoppers make more educated buying decisions. Thank you for your consideration: [[LINK_PRODUCT_REVIEW]]
And as we mentioned in our last email, please don't hesitate to contact us if you have any questions or concerns about your purchase or anything else in our product line! 
Thanks Again,
Seller Name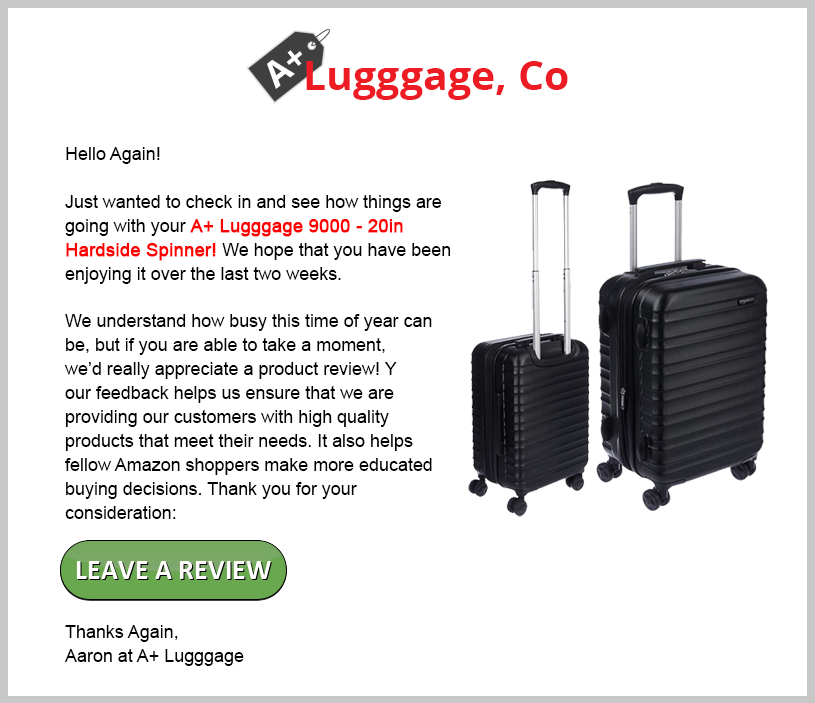 If this email does not convert into a product review, you could try sending another follow-up similar to it to ask one more time. 
Read More:- 10 Ways to get your Amazon Seller account suspended!
3. Adding flare to your email templates with images and GIFs
One of the things that separate FeedbackWhiz from its competitors is that it gives you the ability to turn images into actionable links. So for example, instead of simply dropping in a blue link when offering shipping information, you could add the link to a GIF of a delivery truck. Or instead of requesting a product review with just a link, you could create a button that says "Leave a Review!" in a color like red that gives it a sense of urgency.
Even when you aren't using images as links, they are a great way to break up the monotony of these email campaigns. You can add some life to your emails that can both entertain the buyer and convey what you and your brand are all about. Nothing says playfully like some silly GIFs, and nothing says professional like some well-crafted and well-designed buttons and images.
And that's all there is to it. Once you have your template in place, you can set it and forget it; every time you make a sale through your Amazon store, the automated email campaign will take care of the rest. As the product reviews start rolling in, more sales will soon follow as future customers will buy with more and more confidence.