Executive Summary
How to Increase Followers & Sales with Amazon Live
1.
What is Amazon Live?:

Amazon Live is an online streaming platform for Amazon sellers. It is similar to YouTube, Twitch, and other streaming platforms.

2.
What Can You Do with Amazon Live?:

Sellers can inform and educate their buyers while advertising products. Moreover, you can use influencers to create a strong market appeal. Better customer engagement and interaction help you to increase your followers and sales.
Read More: How to Rank Your Product on Page 1 of Amazon
Introduction
E-commerce heavily relies on customer engagement because users are not physically present in the marketplace. In a traditional market, people can ask questions and get instant answers. However, the online shopping experience is much different, and transparency is a significant issue. Most importantly, the web pages and product listings do not act like a salesperson. No matter how good a dynamic product listing is, it cannot imitate a shopkeeper's pitch. Amazon Live stream allows you to overcome this barrier and takes customer engagement to another level. You can talk to your audience for a long time and explain everything about your products, addressing all their queries and concerns.
What is Amazon Live?
Amazon Live is an online streaming platform for Amazon sellers. It is similar to YouTube, Twitch, and other streaming platforms. The only difference is it allows users to promote their products in a live session. Not all brands and sellers can utilize this service. This program aims to boost customer engagement while allowing buyers to ask questions about the product. More importantly, sellers get the chance to charm the buyers. Informative and interactive sessions are revolutionary because they allow people to converse with each other like in a traditional market.
The Amazon Live Creator app is only available on iOS. It is essential for streaming on Amazon. Hence, you must have an Apple device to use the live streaming service. This live-streaming platform has the potential to transform your business and turn you into a celebrity. Several sellers have used it to promote themselves as well as their products.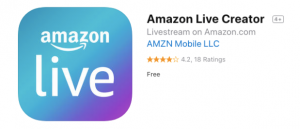 Eligibility for Amazon Live?
US sellers registered in the Amazon brand registry are eligible for Amazon Live. Currently, this streaming feature is only available to US sellers, meaning our guide is only relevant to the US marketplace. An approved storefront is also required for streaming on Amazon. Authorized influencers can also use the app for advertising sponsored products. 
Amazon's Influencer Program is a powerful tool for content creators, allowing them to promote products they love with their followers and earn commission on each sale. Brands can also benefit from the system by hosting live streams that generate discoverability leading to additional sales of their own listings.
At the moment, there are minimal requirements for Amazon live. There are no excuses for not advertising on Amazon Live. It has no cons and will only increase the discoverability of your products, helping more buyers to view your listings. It will also help you to retain your current customers, turning them into loyal buyers for years to come. Find yourself an Amazon influencer and follow our tips when using Amazon Live. Over the months, you will see the difference live sessions make. Higher conversions, better customer relationships, and higher product discoverability will show the worth of Amazon Live.
Read More: Top 10 Ecommerce Strategies for Holiday Season That Your Brand Can't Afford to Ignore
What Can You Do with Amazon Live?
Amazon shoppers can now access the latest products and exclusive offers through live streams on Amazon.com and in the app, creating an engaging shopping experience right at their fingertips! 
Let us tell you how you can maximize your sales and followers through the Amazon Live Stream!
Meet Buyers
Amazon Live helps you to bring yourself and your brand closer than ever to buyers. You can showcase who you are and what makes your products unique in an engaging way – presenting product information while telling stories that resonate with shoppers. With this more personalized approach, customers can access meaningful content from brands they trust – allowing for deeper relationships between sellers and users. The conversation-style storytelling will help you gain loyal brand followers.
Inform & Educate
Customers today expect more than static infographics to answer their questions – they want engaging content that gives them the information. To satisfy the inquisitive behavior of buyers, sellers must go beyond static infographics like images and videos to truly educate their target audience. Live streams will allow you to hold informative and educational sessions with your buyers. It will help them voice their concerns while providing you with a more dynamic advertisement platform. Transparency will help you to build customer trust, which will go a long way on Amazon. Information is indeed power when it comes to success within e-commerce platforms like Amazon!
Read More: Making the Most of Amazon's Buy Box Algorithm

How to Enhance the Live Stream?
Amazon Live is a free platform for sellers, and any registered brand can stream its products. However, Amazon offers a stream-boosting option that increases your visibility. Boosted live streams will be featured across various advertising placements on both Amazon's website and shopping app, allowing each video to reach its full potential in terms of exposure.
We do not recommend boosting the stream unless you have a sizable marketing fund. Exposure does not always lead to better sales and loyal customers. In some cases, enhancing the stream can be counterproductive, as you may attract people who have no intention of buying the product. A high number of visitors and a low conversion rate will decrease your ranking. Therefore, think about everything before using the live stream!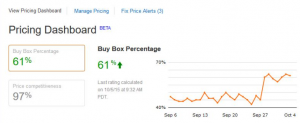 How to Use Amazon Live Influencers?
Connecting with the right Amazon Influencers has never been easier. By heading to the Amazon Live platform, sellers are presented with a broad range of categories that resonate most with the brand and products they hope to promote. With over 15 choices available, shoppers can discover content creators daily who match up perfectly for an exciting collaboration! Ensure your ideal influencer also maintains other social channels outside of Amazon – this way, you get the best value out of promoting through an expert's network.
Read More: Making the Most of Amazon Buy Box Algorithm
Best Live Streaming Practices
Stream for at least 30 minutes.

Share your stream link on social media websites.

Build hype for promotions and discounts through the stream.

Encourage your viewers to ask questions.

Always include your products in the live stream.

Tell a story about your brand.

Address product concerns.
Conclusion
Amazon Live offers an unparalleled opportunity to get ahead of the competition for free! It has interactive tools that help brands inform and advertise their products. Amazon influencer campaigns can maximize your brand potential while boosting your public reputation. Connect with customers at zero cost and market your products in any way you want! Streamline your brand's visibility with this innovative channel and quickly connect with potential buyers in meaningful ways. Do not miss out on this game-changer for your business!
Hi there! I'm the content marketing and branding specialist for AMZ One Step. I work hard to create engaging and informative content that helps our readers learn more about Amazon selling and how to make the most of their businesses. I love spending time with my family and exploring literary works when I'm not writing or working on projects.