Executive Summary
5 Best Ways to Highlight Amazon Product USPs
1.
5 Best Ways to Highlight Amazon Product USPs:

Use innovative product images and compelling listing copywriting. Compare yourself to the competition and tell the clients what they cannot get anywhere else. Ask buyers to leave positive reviews about your product USPs. 

2.
Will These Actions Increase Conversions?:

When you stand apart from the competition, everyone will think you are offering a better product. 

3.
Are USPs More Important than Everything Else?:

Amazon is such a saturated marketplace that USPs are more important than everything else.

Amazon has become one of the most saturated marketplaces, and buyers often find five sellers or more for the same product. There is little to no differentiation in many categories, and almost every seller sources product from the same supplier. Buyers hate to see the same product over and over again. They want something new and better that makes their life even more comfortable. Highlighting USPs is the only way to attract buyers. Otherwise, they will assume your product is the same as other sellers. 
Read More: Amazon Seller Forums & Communities That Are Highly Useful
5 Best Ways to Highlight Amazon Product USPs
The generic Amazon business world leaves little space for innovation and versatility. Selling a unique product is not enough if you are not highlighting its uniqueness. Buyers need to know from first sight that your product is different. Use high-quality Amazon product photography to grab their attention. When they finally get to the product listing, they want to know more about the USPs. It is where highly informative and engaging content comes in handy. Ensure that every product listing section has informative content about the USPs. Use the images and content to compare yourself to other products. Tell customers what makes you unique and why other products are generic. The combination of these activities will highlight the best parts of your product.
The product description is another section with a lot of space. Use this space for advertising the USPs of your product. Provide an in-depth explanation of your product and connect every feature to a benefit. It will grab the attention of the buyer. You can also use EBCs in place of the product description, as it increases sales by 3-10%.
We bring you five easy methods for highlighting your product USPs. It will help you to differentiate yourself in the endless pool of products.
Innovative & High-Quality Amazon Product Images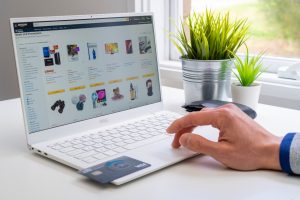 Dull and generic Amazon product photography can never highlight product USPs. No buyer comes to a product listing wanting to see unappealing images. Even high-quality product photography is not enough. You have to take an innovative approach and fine-tune every picture. Graphics designers are necessary for this process, as they will recommend creative concepts. Find what works best for your product, and see if the images highlight the differentiation point. A creative photo highlighting a differentiation point can be all it takes to convert a viewer. 
The above image is a perfect example of highlighting USPs through visual references. It shows that the product acts like an umbrella. Moreover, the text mentions that it is better than an umbrella. This level of creativity is something that charms buyers. Hence, Amazon product photography is only a part of the puzzle and does not help you create unique images. Graphics designers will help you to create a masterpiece. Discuss your ideas and try out different creative concepts related to the product USPs. However, creating such an image requires extensive stepwise refinement. Give additional time to designers and provide constructive feedback throughout the project.
Read More: The Last Guide To Amazon Product Photography You Will Ever Need!
Target USPs in Listing Copywriting


Product images can attract buyers to the product listing, but copywriting is the source of information. People read the title, features, and description to learn about the product. The highlighted USPs in the images should also be extensively discussed in the title, key features, and product description. 
Listing optimization refers to improving the discoverability of the product. However, it can also be used to highlight USPs. Listing copywriting is a part of listing optimization, and content writers can expertly highlight the USPs everywhere in the content. From the title to the product description, writers can highlight the USPs in every section. Listing copywriting is a perfect opportunity for sellers to explain the product's uniqueness. Buyers often fall head over heels after reading the features. Hence, combining product images and listing optimization is necessary for highlighting product USPs. Bait the buyers with an attractive product image and hook them with informative copywriting.
Contrast Yourself with the Competition
Comparison images, statistics, and other metrics are perfect for highlighting USPs. Tell your buyers what they can't find anywhere else. Many sellers think that comparison will decrease traffic and create controversy. It is necessary to provide a comparison image of your product. Explain the reasons why your product works better than others. It will highlight the USPs of your product and create a cognitive bias in the buyer's mind. Pick the closest competitors and see how your item is different. After that, create content and images that tackle the competition.
Tell Customers What They Cannot Get Anywhere Else
Buyers are on the lookout for unique products. Nowadays, the first thing they look for is the differentiation factor. If the product is not different, they move on to other products. Charm your buyers at first sight with a unique product aspect. Even if your product is not innovative, you can use the images to make it seem different. Product USPs are not the only competitive advantage. High-quality product images and content can make your product listing better than other sellers. Hence, compelling content and mesmerizing visuals can make your product seem more appealing. 
Make everything about your product a USP through high-quality visuals and content!
Read More: 10 Things You Should Not Be Doing In Amazon Listing Optimization
Positive Product Reviews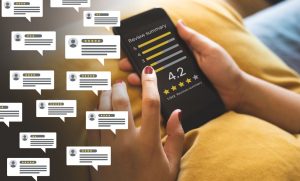 Savvy shoppers know it pays to do a bit of digging before making those all-important purchasing decisions. They analyze the good, the bad, and the ugly in reviews from past customers to decide if this product is worth their money! Product reviews can transform an unsure customer into someone confident about buying the product. 
Content, images, and everything else is worthless if the reviews are not good. Not many buyers will take a chance and buy a poorly reviewed product. Marketing USPs only work if the buyers confirm that your product quality is as good as advertised.
Reviews are a powerful way to get your store noticed! By giving helpful feedback, customers help potential buyers make informed decisions. It also elevates the visibility of those items across search engines. Positive reviews on social media can further improve the brand image and discoverability.
You must be thinking, how do I get better reviews? Reach out and ask customers who bought from you about one week after their order arrived. Consider using on-site requests and messages. Include "thank you" cards in packages that ask them to leave a review. Provide coupons to your buyers to make a positive impression. Especially ask them to review the product USP. 
Read More:How to Use an Amazon Prep Center to Streamline Your Business?
Will These Actions Increase Conversions?
When making a purchase, buyers want the best bang for their buck. Convincing them of that means highlighting all those features which make your product stand out from its competitor – those Unique Selling Points! Whether you're comparing apples-to-apples or oranges-to-oranges, these USPs increase conversions because they give potential customers more insight into why your product is the right choice.
Are USPs more Important than Everything Else?
With fierce competition and saturation in the market, it can be hard to make your product stand out. But if you want to succeed as a business, differentiation is necessary! Utilize those Unique Selling Points (USPs) – even small factors that set you apart from competitors can have a huge difference. Don't forget to showcase these USPs; let everyone know why they should choose your product first!
Conclusion
Show off your USPs with style! Get creative and use high-quality product images to stand out from the competition. Craft compelling content that speaks directly to potential buyers, making sure you explain exactly why you're better than other businesses out there. Don't forget about getting positive customer reviews – these can be invaluable in helping people choose your amazing products or services over those of competitors.
Hi there! I'm the content marketing and branding specialist for AMZ One Step. I work hard to create engaging and informative content that helps our readers learn more about Amazon selling and how to make the most of their businesses. I love spending time with my family and exploring literary works when I'm not writing or working on projects.